Choices: Stories You Play is a story app, with dozens of stories, ranging from horror, to romance, to fantasy, or mystery, you are the one who chooses its path. Here is a list of all the current stories that have been released in the game.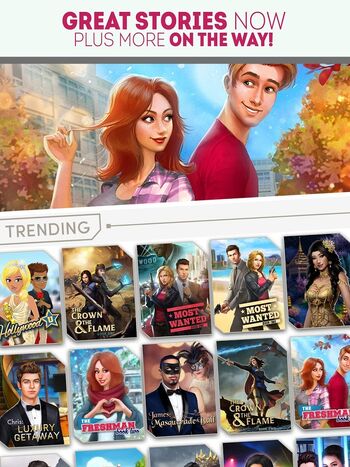 The Freshman
Premium Dates
Holiday Specials
The Crown & The Flame
Most Wanted
Rules of Engagement
Rules of Engagement Special
Endless Summer
#LoveHacks
The Haunting of Braidwood Manor
The Royal Romance and The Royal Heir
Holiday Special
The Sophomore
Holiday Special
Hero
High School Story
It Lives
Red Carpet Diaries
Home for the Holidays
Perfect Match
Bloodbound
Holiday Special
The Junior
Veil of Secrets
America's Most Eligible
Desire & Decorum
Holiday Special
Across the Void
The Senior
Big Sky Country
The Elementalists
Holiday Special
A Courtesan of Rome
The Heist: Monaco
Ride or Die: A Bad Boy Romance
Open Heart
Passport to Romance
Wishful Thinking
Nightbound
Platinum
Sunkissed
Bachelorette Party
Mother of the Year
Save the Date
The Royal Masquerade
Baby Bump
Hot Couture
With Every Heartbeat
Blades of Light and Shadow
Witness: A Bodyguard Romance
Distant Shores
The Nanny Affair
A Very Scandalous Proposal
Queen B
The Unexpected Heiress
My Two First Loves
Ms. Match
Rising Tides
Wolf Bride
Foreign Affairs
Slow Burn
Laws of Attraction
Shipwrecked
Crimes of Passion
Wake the Dead
Community content is available under
CC-BY-SA
unless otherwise noted.