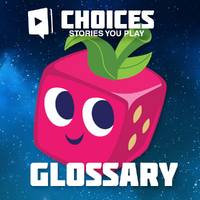 This page contains all the abbreviations and acronyms used all across the wikia. If you are looking for a particular word, you can use the index below.
A
B
C
Ch = Chapter
CoD = Cause of Death, the name of a previous app by Pixelberry, back when the writers worked for EA
D
D&D = Desire & Decorum (or, Choices-unrelated, Dungeons and Dragons)
D&D: FW = Desire & Decorum: First Winter (alternative: FW = First Winter)
DF/DM = Diamond Farm / Diamond Mine
DS = Distant Shores
Dual Lead = a story that switches between two protagonists
DTR = Define the relationship (https://www.dictionary.com/e/acronyms/dtr/); it's usually used in reference to when you are casually seeing someone or dating them with little to no strings attached. It's essentially the point in a relationship when you inevitably ask or get asked "what are we".
E
F
G
GL = Genderlocked. It is a story that doesn't let you choose the gender for Your Character.
GoC = Gender of Choice. It is a story that lets you choose the gender for Your Character.
H
I
J
K
L
M
N
O
P
PB = Pixelberry
POV = point of view
PtR/P2R = Passport to Romance
PSA = Public Service Announcement
Q
R
S
SD = Save the Date (another abbreviation used on other pages is StD but we decided against it due to its more common meaning, "sexually transmitted disease")
[sic] - Latin adverb usually used in brackets within quotes to indicate that the original source that is being quoted contains an error, for example a typo. For more information click here to read the Wikipedia article.
SK = Sunkissed
T
U
V
W
X
Y
Z
Community content is available under
CC-BY-SA
unless otherwise noted.